About
In 1982, the Hiddenite Art & Heritage Center, a non-profit arts organization serving Northwestern NC, and Appalachian State University partnered to create the Sharpe Chair, which promotes art and culture in our region.
Made possible through an endowment established by Hiddenite Arts & Heritage Center founders R.Y. and Eileen Lackey Sharpe, the position helps develop arts programming at the center and throughout Alexander County.
The center, which was founded in 1981 in Hiddenite, inspires and cultivates artists to share their creative talents. Students, staff and faculty have worked and performed for people of all ages at the Hiddenite Center's Lucas Mansion and Educational Complex as well as in Alexander County Schools and surrounding venues.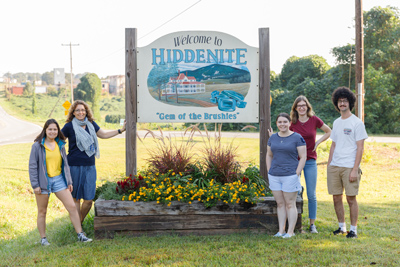 Sharpe Chairs are selected from tenured faculty in the College of Arts and Science, Hayes School of Music or the College of Fine and Applied Arts.
Faculty who have been honored to serve as the Sharpe Chair position include:
Teresa Lee (Theatre and Dance)
Ed Pilkington (Theatre and Dance)
Eric Reichard (Technology)
Max Smith (Hayes School of Music)
Scott Meister (Hayes School of Music)
Currently, the position is held by Jody Servon, a professor in the Department of Art.
The Hiddenite Arts & Heritage Center is a non-profit organization that is under the leadership of Director Donna Latham. For more information, visit the Center's website.
Contact
Donna Latham, Director of Hiddenite Arts & Heritage Center, may be reached at donnahiddenitearts@gmail.com.
Jody Servon, Sharpe Chair at Appalachian State University may be reached at servonjm@appstate.edu.